The result of one of the new recipes:
Roast Dog Ribs
Better than eating them raw!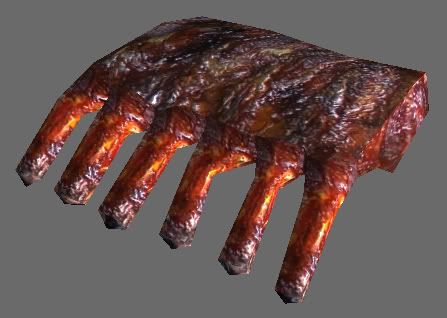 After not modding since March, I needed to figure out where I left off... So here is a basic update,
in depth details are now on my website.
Honestly, I wasn't going to start modding or playing again until after finding a full-time job, but I can't put it all on hold forever. I'm still job hunting and just had a promising interview today. Hopefully something good will come soon. In the meantime, I must mod!
Done:
New Craft: Milling
3 new Milling Recipes
1 new Alchemy Ingredient
1 new Raw Food
5 new Cooked Foods
10 retextured pre-existing Foods
1 retextured pre-existing Alchemy Ingredient
14 new Cooking Recipes for pre-existing Foods (not able to cook previously)
5 new Cooking Recipes for new Foods
Pending:
More (at least 4) new Foods
More (at least 7) new Alchemy Ingredients
More (at least 1) retextures of pre-existing Foods
Ideas: Milking, Brewing, Cooking morbid ingredients, Food effect changes/balance, Add staples to vendor list...
???